About Kukdeshwar temple
Kukdeshwar Temple is located in the Pur village on the bank of Kukdi River at a distance of 15 Km from Junnar on its western side in the Pune district of Maharashtra. It is a 12th century Shiva temple which has been built as per Hemadpanthi architecture. The site of the temple looks amazingly beautiful and the Kukdi River on its norther side adds to its beauty.
It is a popular temple of Lord Shiva which is noted for its splendid carvings and sculptures on the inner and outer walls of the temple. It lies in close proximity of Chavand Fort, also known as Fort of Prasannagad at a distance of mere 3 Km. The roof of this temple is currently in a dilapidated state but renovation is being carried out.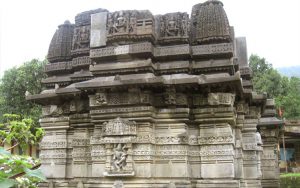 Temple History:
It is believed that Kukdeshwar temple is approximately 1100 years old and the original idol of Lord Parshwavnatha in the temple could not endure with the passage of time and got destroyed in between this long period.
As per a legend, in the depth of a grand future, a Brahmin saw Parshwavnatha as the architect of eternal happiness and the future Tirthankara. Thus, he in the memory of his last two lives installed a splendid idol of Lord Parshwavnatha.
Architecture:
It is a 12th century temple built in the hemadpanti style of architecture with beautiful carvings on the outer wall. The river Kukdi flows near the temple on its northern side. The temple has a nearly 2 feet 3 inches high, black colored idol of Bhagawan Kukadeshwar Parshwanatha in a Padmasana posture.
Poojas and Festivals:
The temple opens up early in the morning and one can hear the priests chanting the Sanskrit mantras thus completing the morning puja. Then a morning aarti is performed to which devotees gather in good numbers. The evening aarti is also usually conducted at 7:00 PM. The temple however remains open for the devotees from 6:00 AM to 9:00 PM every day. Apart from those, every year on the tenth day of the Bhadrapada month's bright half, a fair is held in this temple.
How to reach the temple:
By Road: The temple present in Pune. We can reach the Temple easily by hiring auto, bus or taxi from anywhere in the Maharashtra or from neighboring state. Maharashtra is connected with most of the Indian cities by road. The Maharashtra State Transport Corporation (MSTC) runs regulars bus service to the Temple.
By Rail: The nearest Railway Station to the temple is Pune railway station.
By Air: The Temple can be reached through nearest Pune Airport which is well connected with regular domestic flights to Delhi, Mumbai.